Back Playing At Last !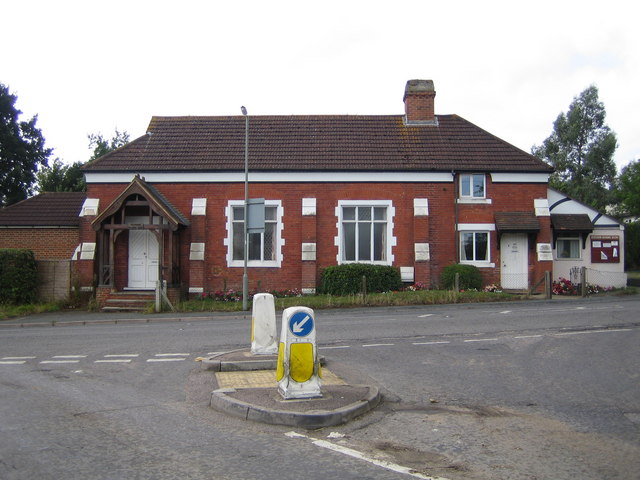 After a very happy and productive 20 years rehearsing in Reeds School, Cobham, Surrey Brass has resumed playing post-covid in a new venue, the Fetcham Reading Room. The restrictions on educational establishments very sadly made it too difficult for us to continue rehearsing in the home we have enjoyed since we started, so after a great deal of hunting we discovered this little gem of a rehearsal space which suits us perfectly. The acoustics in the Reading Room are excellent, something our fellow brass players at the Mole Valley Silver Band know only too well since they too have been rehearsing here for over 50 years! 
We will forever remain grateful for the generous support of Reeds School and hope to continue our cordial relationship with them in future. We are also grateful to our good friends Egham Band who kindly offered their own excellent Band Hall to Surrey Brass.
This panoramic view from the conductor's podium was taken by our conductor Robin Smith showing just how socially distanced we were at our first rehearsal!
The Reading Room was built in 1885, to enable workers in the parish to meet and socialise - "educated ladies" of the village were in attendance, to read newspapers and letters to those workers who were unable to read for themselves. Today, it is used by local groups for a variety of regular activities, including ballroom dancing, band practice, painting, pilates, table-tennis and yoga.
The Reading Room is operated by Fetcham United Charities which is responsible for the provision of Almshouse accommodation, providing ten flats for people and meeting a vital social need in the area. Surrey Brass is delighted to be supporting the Charity in our small way.
Surrey Brass Rehearsals take place on Wednesday evenings - our schedule is still variable until restrictions are finally lifted - and visitors are most welcome to sit in. Contact us if you would like to join us so we can ensure everyone remains COVID-safe.
Story date 11 June 2021
---
Surrey Brass is delighted to announce their first post-lockdown concerts.
After the longest silence in live performance in human history, Surrey Brass is about to start performing again. We hope you can join us.
Just when you thought live music would never happen again, Surrey Brass is starting to play again, and will perform to live audiences at the earliest permitted moment.
Our first concert is just round the corner on Sunday 13th June - just enough time to get our chops back in top notch condition to perform in our Brass Quintet formation at the Landmark Arts Centre. We shall delight in providing a really enjoyable Sunday afternoon's music for our audience, reminding everyone that Surrey Brass has survived and is bouncing back. We aim to raise funds for our old friends the Landmark Arts Centre, who continue struggling to survive and need your help to get going again. All profits will go to the Save The Landmark Appeal. 
Looking further ahead, no less than three Christmas concerts have already been put in the diary, one in Richmond and two of our legendary Carols By Candlelight concerts, which have consistently sold out since their inception in 2002. Whilst details do need to be worked out, never fear, we are optimistic that the full 10-piece Surrey Brass will be in full force at the Landmark in December together with Choirs and Storyteller to deliver the sparkling event our audiences are familiar with. We are extremely hopeful that that by the time we get there, the situation will allow venues to open up to large audiences for long-awaited and joyous celebrations. We sincerely hope you are able to join in.
We are far from finishing though, for in the weeks to come we shall bring more news of the musical programme for the Autumn. 
Keep In Touch with Surrey Brass

Our Events Page lists upcoming
and past events.

Join Our Mailing List to get updates
with all the latest information.
---
Please help to power Surrey Brass back to performing health
Climbing out of musical hibernation will take a lot of work. Like most musical organisations, our resources have been seriously affected and need replenishment.
You can help by joining the growing number of people who Support Surrey Brass. All you have to do is make a couple of extra clicks when you shop, it's as simple as that. Please sign up now, simply click below. 
---
Story dated 6th April 2021